As we approach the January 12 anniversary of the devastating Haiti Earthquake, I would like to share with you a way to give back to the people of Haiti by supporting a special initiative called
the Heart of Haiti Project
.
It was founded by
Willa Shalit
(daughter of Gene Shalit) and her company,
Fairwinds Trading
, a for-profit company that uses business as a strategy for economic empowerment of people, especially women, in the Majority World. The Majority World is where two billion of the world's three billion people live, in poverty.
Through a partnership with Macy's,
Heart of Haiti
offers artisan-crafted decorative arts and jewelry for sale through the first collection of home decor crafts since the January 2010 earthquake. Each item is designed exclusively for Macy's and made by hand by local artisans.
All income derived from sales of the products on the
Heart of Haiti
site enhances an artisan's family's nutrition, educates children, and brings access to healthcare and dignity. There are several items in collection I love, here my three favorites:
Heart of Haiti Bowl, Watermelon
Fresh from Haiti's master artisans, this papier-mache watermelon bowl is as bright and enticing as the real thing. A juicy red center and ripe green exterior inspire creativity in your kitchen.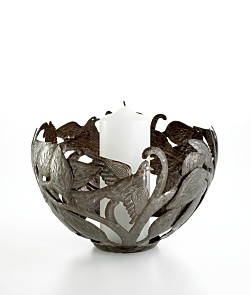 Heart of Haiti Candle Holder, Fire Bird Hurricane
Rustic yet refined, this beautiful candle holder is the product of basic scrap metal. Steel from recycled oil drums is cut, shaped and totally recreated into sculpted birds and branches by Haiti's brilliant artisans.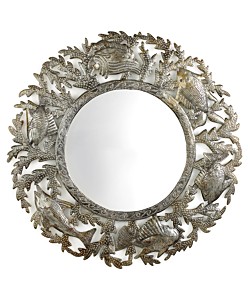 Heart of Haiti Mirror, Agwe
A reflection of the ingenuity of Haiti's skilled artisans, this mirror is handmade from the steel of recycled barrels and named for the island's sea god, Agwe. Meticulous metalwork gives the exotic undersea design a natural circular flow, swimming with fish and swirling sea grass.

Each of these would make lovely additions to your home and it feels good to know that through the sales of
Heart of Haiti
products at Macy's real, sustainable income is going into the hands of the artisans who create them, changing their lives in remarkable ways and helping to preserve their cultural history, restore their homes and rebuild their communities.

Disclosure: I was selected for this very special "CleverHaiti" opportunity by
Clever Girls Collective
, which endorses
Blog With Integrity.
All opinions are my own.