Recently my family was introduced to Sprout Organic Foods when we received a sample pack of their new
Toddler Fruit & Veggie Crispy Chews and Fruity Yogurt Bites
to review. Known for being:
"Naturally sweet and wholesome, Sprout recipes are made with certified organic ingredients and contain no preservatives, artificial colors, flavors or other additives. Sprout is also pleased to be able to offer a selection of recipes suitable for those with allergies and food sensitivities."
I was really impressed with our toddler snacks. I pre-taste everything we give our little guy. Normally I find most first foods pretty terrible and bland, but these were so good I would eat them myself, seriously. I liked them so much, I'm very glad I get to give away a sampler pack to one of you too, so read on to enter!
Let's start with the Toddler Fruit & Veggie Crispy Chews, which come in four flavors. From left to right:
Tropical Fruit & Pumpkin
,
Purple Berry & Carrot
,
Red Berry & Beet
, and
Orange Fruit & Carrot
. At first these combinations might seem unusual, but the fruit combined with a vegetable really go well together with the fruit providing just enough sweetness.
I've heard of hiding the veggies for picky eaters before but have never been fooled myself but I really couldn't taste any lingering beet flavor in the Red Berry & Beet and I was really trying to find it. I really hate beets, and this may be the very first time I've willing ate anything including them. They were that good!
What makes Sprout Organic Food's Toddler Fruit & Veggie Crispy Chews special is that you're expecting a run of the mill fruit snack type thing. You know what I mean, the kind that look like solid jelly and don't resemble any kind of fruit that naturally exists. But when you open them, you find these little bits that look you can clearly tell started out as the real deal and have crispy brown rice embedded to give them a satisfying crunch. I thought the taste was really light and vibrant and liked the soft crisp chewy texture. You can really tell you are eating a quality product.
My little guy ate his all up. I let him have these at home but saved the rest for taking on the go and they were so helpful as they kept him occupied and happy while I was out running errands. Plus I liked knowing I was giving him a quality snack that was grab and go without being junk.
These are the Toddler Fruity Yogurt Bites. From left to right are:
Raspberry Yogurt with Real Mango Pieces
,
Strawberry Carrot Yogurt with Real Banana Pieces
,
Banana Pumpkin Yogurt with Real Banana Pieces,
and
Orange Carrot Yogurt with Real Mango Pieces
.
The Fruity Yogurt Bites have a soft quick-dissolve texture and are great for early self feeders. Like the Fruit and Veggie Crispy Chews, each variety comes in five single packet portions with no added sugar, BPA-free packaging, never any additives or preservatives, and never any artificial colors or flavors.
The
Raspberry Yogurt with Real Mango Piece
s was my favorite out of all the samples we were sent, sort of surprising because I've never liked mango. Again the taste was really vibrant and fresh tasting, and yes I know that might seem a little contradictory considering how they look like dehydrated bits. However, they are really tasty and a lot less mess than having to carry real fruit around in my diaper bag.
I really can't rave enough about how well done the
Sprout Organic Foods Toddler Snacks
were. I was very impressed in the high quality and taste of their products. They really are like no others on the market. I was very interested to find out that they have foods for babies through toddlers, including some interesting looking
fruit and grain blends
and
vegetable and grain blends
for babies in those oh so handy squeeze pouches. My little guy still loves eating squeeze pouches and I've never seen any with brown rice or oatmeal mixed with the fruit or vegetables. I wish I had known about those last year! They also offer
veggie only options
, which I really like because it can be so hard to get those into my kids!
Connect with Sprout on social media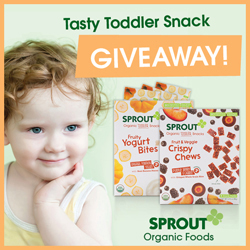 a Rafflecopter giveaway

Disclosure: #spon: I'm required to disclose a relationship between our site and Sprout Foods. This could include the Sprout Foods providing us w/ content, product, access or other forms of payment. Check out the new Sprout Foods website at www.sproutorganicfoods.com.