A photo shoot I did with ER when she was two months old was particularly memorable for me. It was one of the first times I thought I really captured her personality, along with a big happy smile. I wanted to do something truly special with the photos.
I decided to alter an old children's board book, literacy lovers don't worry I got it secondhand and it was pretty beat up, after a sheet of stickers with the theme of "My Hopes and Dreams for You" with poignant sayings printed on them, inspired me. I combined it with a sheet of sticker tabs and used them for most of my journaling throughout it. If you need some tips on altering board books, you can refer to my
previous tutorial
.
For the front cover, I used an exact-o knife to cut out a frame for a photo. I placed the photo under the opening on the page beneath the cover page and a piece cut from a page protector on top of that. Then I adhered the cover and first page together for stability. Some rick rack, buttons, and a metal label with tags with her named spelled out in stickers decorate the cover.
For the first page I printed out the lyrics to
I Hope You Dance
, as performed by Lee Ann Womack. I have always thought they were so beautiful and poignant. I added ER's name with stickers, but removed them for privacy. I was in a rush so the cloning isn't exactly flawless but it's good enough for sharing purposes.
Then I continued to use my favorite pictures, laying them out through the book, using paper scraps, sticker sayings, and sticker tags. I painted the right side above, and also painted all of the edges of the book pages with the same blue. The blue side was created in the same manner of the cover, using two consecutive pages and gluing them together.
Same thing for this page of tags. I cut out opening for each tag on the right side from the top page; the actual stickers are on the page below. I knew I wanted to use metal brads, but didn't want to add too much bulk. They are a bit recessed this way.
The top left side of this page is blank, because I added a personal message for ER after taking these pictures of the project.
This is my favorite picture, with ER giving me a wide open smile and a big gurgle and giggle. Another special message for her is printed it out on vellum for this page. I hope that when she gets older she'll treasure it. Perhaps she'll look through it, when we're apart and it'll remind her how much I love her.
My friend Maridith at
Strictly Homemade
has started a montly challenge, on the 20th, to show off our hand make gifts for loved ones called
Gifts from the Heart
. This book for my daughter is linked up. It doesn't have to be a craft, it can be a home cooked meal, or even the gift of time. It's not about the money you spend but giving from the heart. I think it's a lovely sentiment and hope you'll join us.

Shared At: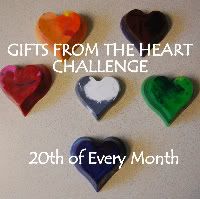 Scrappy Saturdays at Scrappy Gifts
It's So Very Creative at It's So Very Cheri
Make it for Monday at Cottage Instincts
Motivate Me Monday at Keeping It Simple
Making the World Cuter Monday
Just Something I Whipped Up at The Girl Creative
Market Yourselft Monday at Sumo's Sweet Stuff