For Mother's Day, ER and I worked very hard to make her very first mini books, one for each Grandmother. We used cute pink books with scalloped edges and ribbon binding as our bases. They were from the dollar section of Target.
I let ER go to town decorating the pages with stickers, stampers, stickers, and illustrations I'd punched out of old greeting cards. She also colored beautiful pictures on some pages; that was her favorite.
I went through the stacks of pictures I have and picked out duplicates, then punched and cut each one down to size. ER glued them on the pages and then added more stickers.
We added some special writing and on the first page I wrote down ER's dictation as to why she loves her Grammy.
She was very excited about the project; so proud of herself for getting to scrapbook just like mommy. She's been asking and asking to, and I thought this was a great opportunity to get her started. I think they'll be treasured keepsakes for quite some time. Not too bad for a three year old☺ I am so glad we made them, I thought ER was still too young, but then I saw this Tonya's post about
Spring Scrapbooks
on her blog:
This and That
.

Shared At:
DIY Day at A Soft Place to Land
,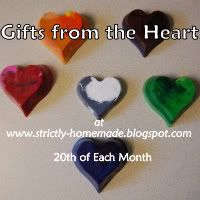 Also part of my friend Maradith's monthly carnival of handmade gifts. While the actual book wasn't made by me, although I admit I could've as I do know how to make handbound books, a lot of time and effort was put into it by little ER. She was so proud to give the book she made to her Grandmas!