Hi Maryanne here from
Scrappy Gifts
. I'm so happy to be a guest posting at Katie's Nesting Spot. I love her ideas. She's so creative! Thanks again Katie!
Read more
about Scrappy Gifts and Me here
, but here's some info to help you get more scrapbooking done:
Need to find time to scrapbook more?
Get motivated and join in on my
Online Crops at my Blog Frog Community
to get some of your scrapbook projects done. Prizes, Games and Challenges.
September Crop starts THIS, Friday, September 10th and ends Tuesday, September 14th! Come on over and participate any days you can!

I wanted to share with you some of my favorite layouts I've done.
These first two layouts are my favorites because both of them I had dreams about how to make them. I know I'm crazy - LOL.

This one I love so much because it uses triangles and not many layouts do.

This one I love all the embellishments I found to make it just right. I love playing with ribbon too, using it in different ways.


Here's a page from my all-time favorite scrapbook I made. It's a scrapbook dedicated all to my senior prom and the beginning of my love story with my husband =D. It was the start of my Cinderella story.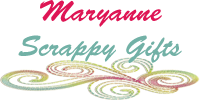 Thanks so much Maryanne! I love that you and your husband were each other's date to prom, my husband and I went together too! Great other choices for favorite layouts too. I really like the triangles and how you used several patterns but kept everything looking cohesive by keeping to the same color palate. The romantic wedding layout is so pretty and the use of ribbon and metal embellishments gives it a lot of interest and texture.
I always enjoy connecting with other scrapbookers and being inspired by their ideas and layouts. It was so much fun participating in Maryanne's online crop in August, that I'm going to contribute a giveaway for September. By participating you'll have a chance to win this stamping set giveaway I'm sponsoring! I hope you'll all join us.