Hey Everyone! We've had quite a week here, I came down with the flu and was SICK! Yuck! Wouldn't you know it, just as I started feeling better...the hubster got sick. He even missed work and he NEVER stays home!
Now you know what's coming next...yep, now the kiddo is not feeling good either. I'm keeping my fingers crossed she's okay enough to get her preschool Halloween party on Friday, or there will be one very unhappy little four year old mooping around our house! So sad because she spent so long working on
goodie bags for her classmates
, and is really looking forward to handing them all out and wearing her costume to school. So keep your fingers crossed she gets better!
Last week I only made it around to a handful of your posts, and I'm very sorry about that crafty friends. It' s a real bummer, because I love visiting you and some of my long time bloggy friends linked up for the first time last week. With the holiday weekend, Halloween is a big deal with the preschool set around here, I may not make around to everyone this upcoming week either. I'll click over to see everyone, but I don't know if I'll be able to comment every where. Those really take up a long time, especially when you've got word verification on.
Thanks for linking up and have a fun filled Halloween:)

Okay enough about my week! Let's get to the fun and three pumpkin projects! I've done this yarn project in the spring for Easter, but never to make pumpkins like
Naturally Educational
did! I think I like it for fall even more!
Road Theory
shared this cute pumpkin shirt, made extra special with ruffles! I love that they are also on the sleeves.
Our third pumpkin project is this card from
Create with Joy
. Isn't the pumpkin stamped on twill cool? I've never tried that before and now I really want to!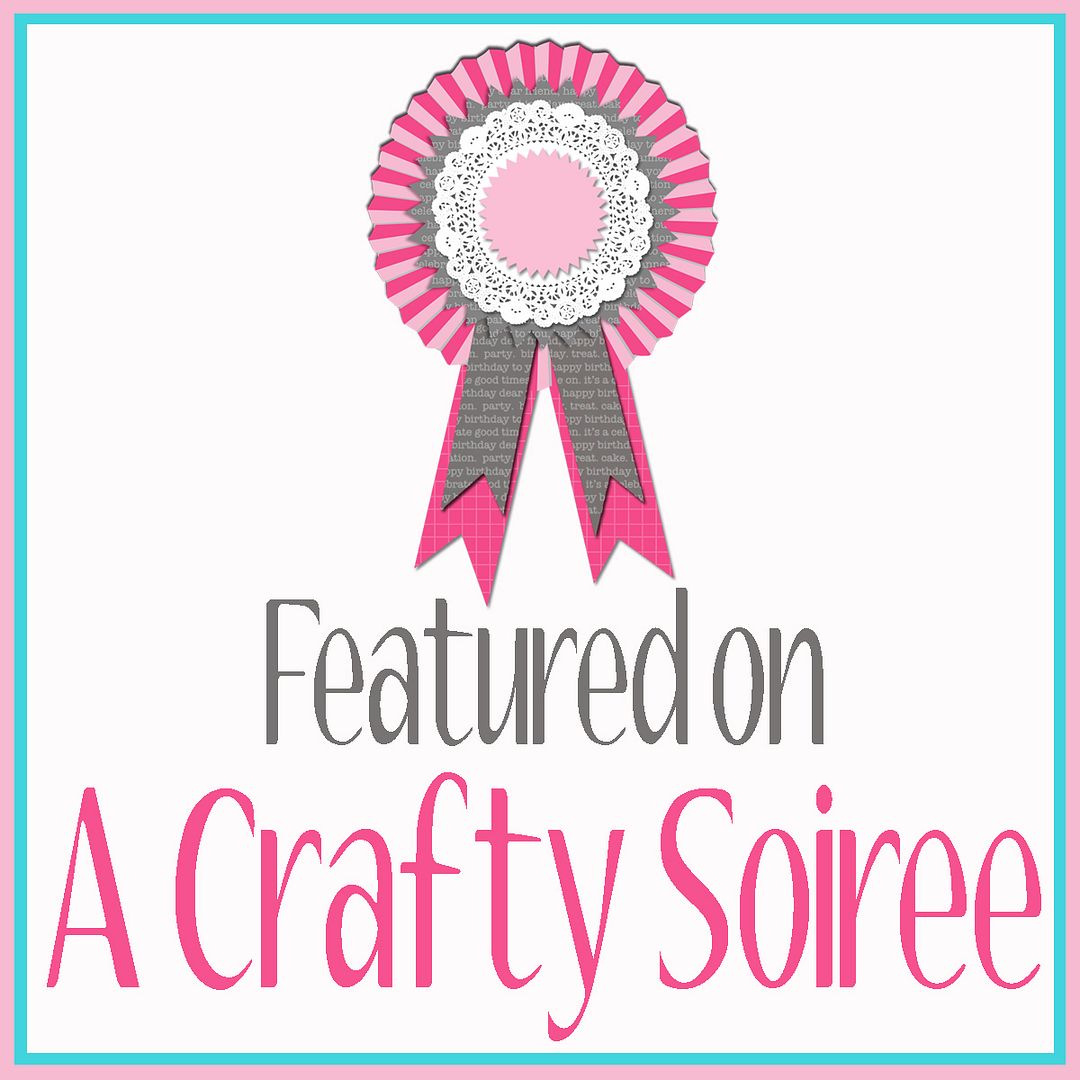 Ladies, for being our features this week, we're happy to offer you our special Crafty Soiree Ribbon! It's yours to proudly display! Don't forget to check out today's Crafty Soiree post at
Yesterday on Tuesday
, we both pick three participants to feature each week so you might have been featured by
Malia
. But you'll have to visit her to find out!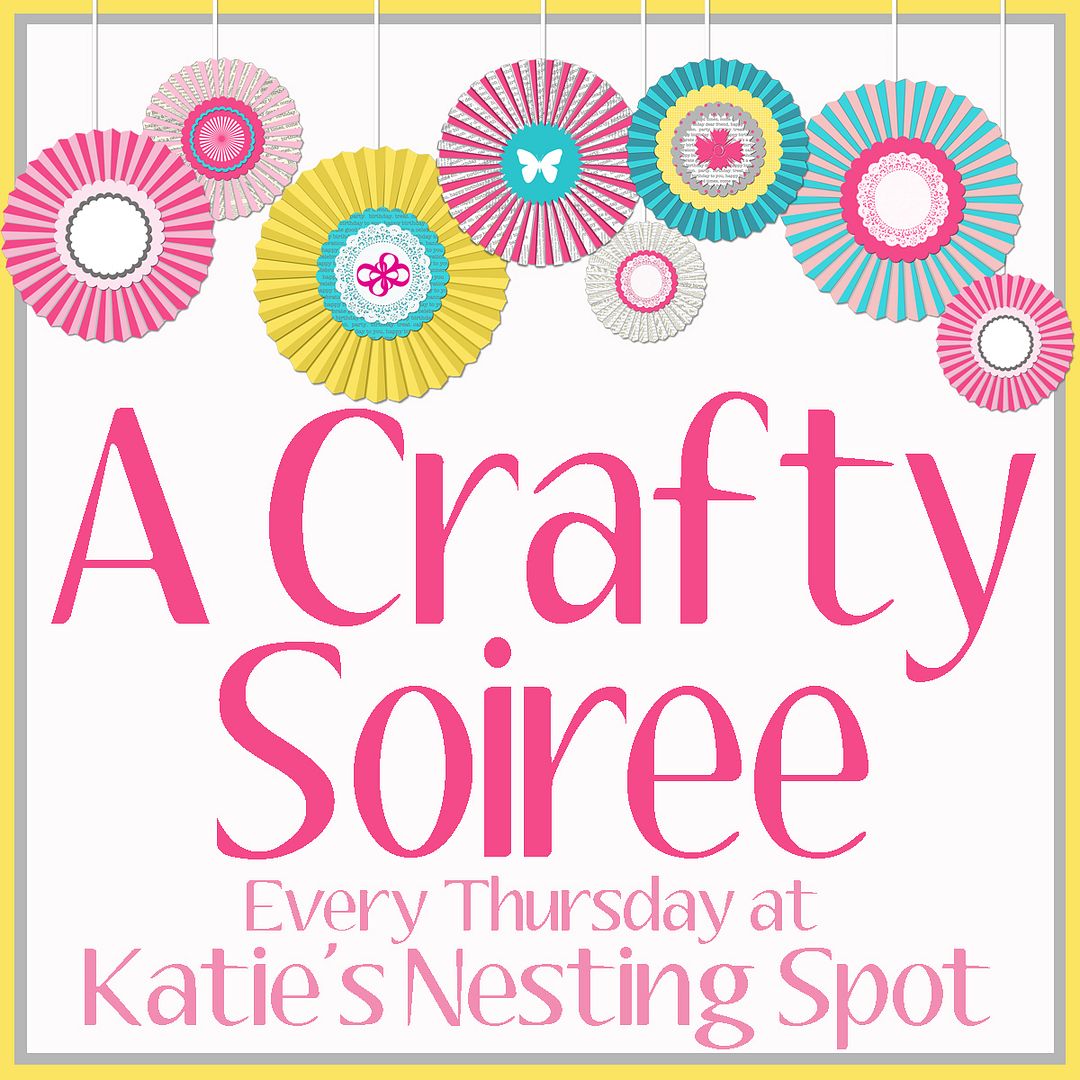 Now it's your turn to link up! The linky will be open for a week, so you have plenty of time to join us! Here are some guidelines for our guests:
Link up your creative projects! Crafts, Decor, Recipes, Sewing and Organizing tips are are welcome. Kids crafts are welcome too, we want to see how you're encouraging the next generation of artists!
Add your links to the specific posts and not your blog's homepage. Please make sure you post is NEW to A Crafty Soiree, it can be from your archives but should not be something you linked up to our soiree before. We've had a few repeats and we'd like to avoid that.

Add my Crafty Soiree button above or link back to me in your posts

, so others can find us and join in!
Please comment on the post linked up in front of you. All partygoers love meeting new friends... don't just stop there...if you see something that catches your fancy-- stop by and say hi!
Please consider following the hostesses, me and Malia, we want to get to know our guests
Most importantly... enjoy yourself and have fun!
Don't forget, A Crafty Soiree is hosted on two blogs, so when you link up on one your link will automatically show up on the other one too! Please note, by linking up to A Crafty Soiree, you're giving permission to feature your project and photos in the future, with proper credit of course☺